Have you read our monthly gardening page?
---
ASQ Garden & Landscape have partnered up with the Castlemaine Mail to run a monthly gardening page.
For those that missed out on seeing our page in print, the information from our March and April pages are below. Keep an eye out for our May page in the Friday, 21st May 2021 edition of the Castlemaine Mail.
Prepping your patch for Autumn planting!
After the dry summer heat, Autumn is the time to rejuvenate your garden and get excited for our beautiful winter rains! It's honestly the best time of year to plant up your garden as it gives the plants a good six months to settle in before we get hit with the hot summer season again. Before you get too excited, its time to do the hard work and get your soil ready. Soil is so important, it's what is going to hold the water in summer, feed your garden, and it's going to either make your plants succeed or fail. You can do one of two things when it comes to soil: Improve the soil you have or bring soil in new soil. Most people in our area will have heavy clay soils. You can improve these soils with a bit of hard work by adding gypsum and compost to break up the structure.
After composting your soil, you can add mulch on top of your garden beds as it retains moisture and regulates soil temperature. Bark mulches are great for native plants as they break down over time giving nutrients to the soil. When applying bark and mulch, we recommend a thickness of 50mm.
Autumn is an opportune time to feed the whole garden. Growbetter's Organic Fertiliser is a great allrounder fertiliser that has a slow and gentle action that won't burn your plant's roots.
Take the opportunity to do some pruning to get your plants back into shape after the summer growth period!
Vegies to sow
Vegies that can be planted now include broad beans, beetroot, brussel sprouts, carrot, cabbage, cauliflower, lettuce, parsley, shallots, silverbeet,
spinach and turnips.
Flowers to plant
You can create a gorgeous spring display in your garden by planting now. It's time to plant your spring flowering bulbs such as daffodils, freesias, tulips,
ranunculi, jonquils and hyacinths. All in stock now and ready to grow!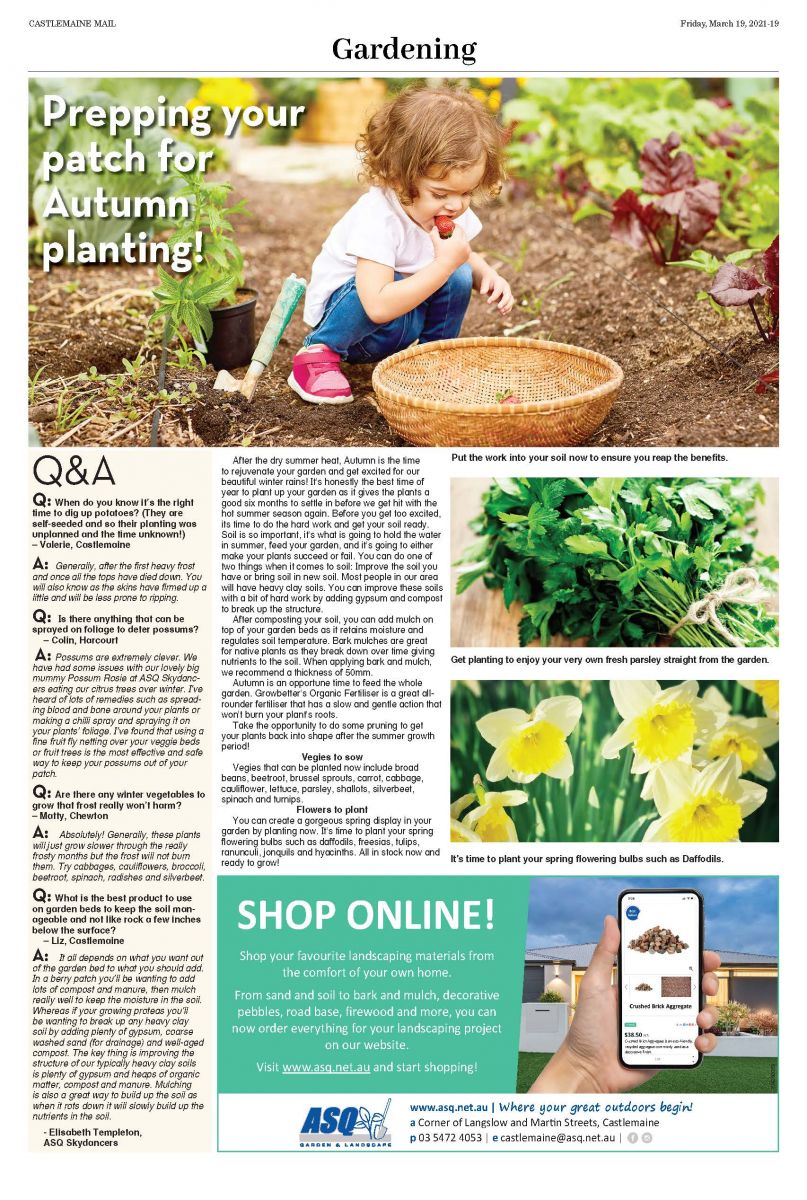 Ready, Set, plant!
The mornings have started getting cooler, and it won't be long before the Central Victorian frost makes its return, so it's important to start preparing your
garden for the winter. Some gardeners prefer to wait until spring to begin planting, but after our recent rains, there really is no better time to grow. Plus, planting in autumn will ensure they are well established for when the warmer weather returns.
So, take some time to plan your garden and the new additions you would like to plant, and don't forget to take advantage of ASQ Skydancers free delivery on orders over $100! From plants to pots, fertiliser, potting mix, bagged product, gardening tools and more, we will deliver your order anywhere within 30km of our site in Harcourt. Orders are delivered every Tuesday. To place an order call our friendly team on (03) 5474 3800.
Vegies to sow
Chinese cabbage, most Asian Greens, spinach, rocket, broccoli, spring onions, cabbages, celery, cauliflower, squash, onions, silverbeet, leeks and lettuce
and carrots. You can also plant some herbs and lemon balm.
Flowers to plant
Now is the perfect time to plant your spring flowering bulbs, and ASQ Skydancers has a huge range to choose from! Plant now so that your garden will bring you a great burst of colour in spring, and don't forget to apply a fertiliser that is high in potassium. We recommend PowerFeed.