Camelias
---
Camellias are outstanding, they can produce hundreds of flowers continuously for up to four months, and they have a long lifespan, lasting decades, even centuries. The first camellias arrived in Australia in 1826 and were planted in Sydney at Elizabeth Bay House. The oldest living camellia was planted in 1347 and can be found in China's Panlong Monastery.
Camellias are very hardy, they will grow anywhere from Tasmania right up to subtropical Queensland.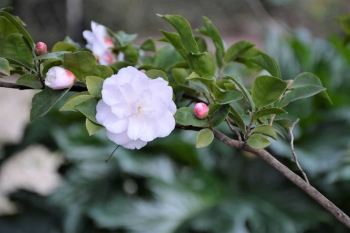 Camellias like an acidic soil (pH around 5.5). They prefer soil enriched with garden compost, cow manure and mulched. If you are unsure, it is better to underfeed than overfeed camelias. If the soil is too alkaline, they are happy to be grown in a pot. With watering, water regularly for the first 12 months, keeping them and prune after flowering to keep them tidy. Camellias need a little protection from the afternoon sun in warmer climates (such as northern parts of Australia). Keep white flowers out of the early morning sun as sun hitting dew-covered white flowers can burn the petals.