Ordering landscaping materials
---
Ordering landscaping materials
When ordering landscaping materials, it can be tricky to work out how much you need. To make it simpler we have added a volume calculator to every landscaping product listing on our website. The instructions below will guide you to make it easier.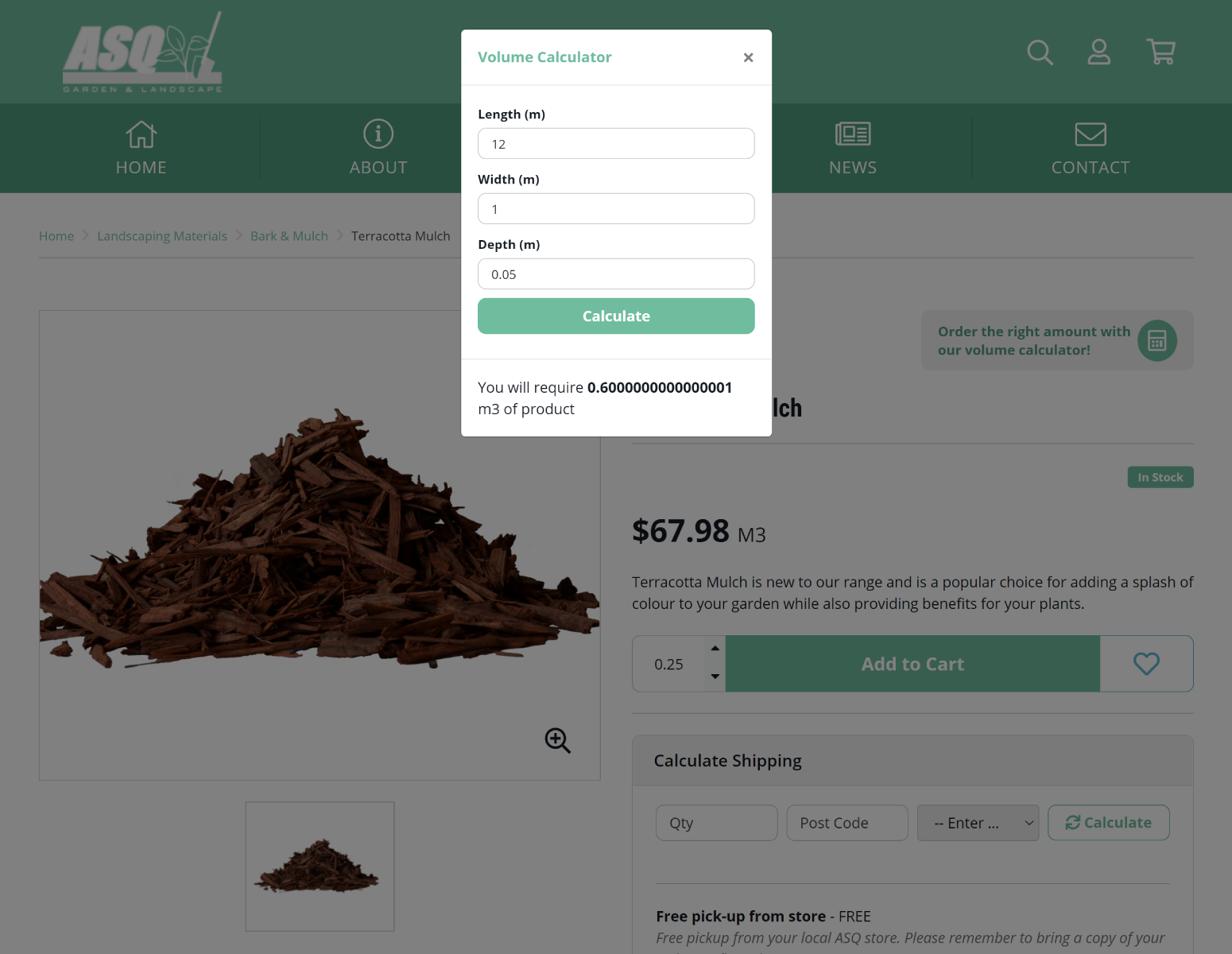 Measure the length and width of the area where you would like your landscaping materials to cover, if you are filling a raised garden bed to a specific high, please measure the depth as well.
Select the product you require and read the description as different materials are used at different thicknesses. For example, when applying bark and mulch, we recommend a thickness of 50mm.
Use our volume calculator to work out how much you need. It is located on every product listing on our website.
Add in the Length (m) and Width (m) of your space, then add in the Depth (m) you require the product to be.
The volume calculator will calculate the volume you require.
The volume calculator on our website uses LENGTH (M) X WIDTH (M) X DEPTH (M), to work out the volume of a square or rectangle.
My garden bed is a circle how do I calculate it?
To calculate a circular space use the formula 3.1415 x (RADIUS(M) x RADIUS (M)) x DEPTH (M). To work out the volume of a circular space, measure from the centre of the circular garden bed to the outside edge, this is known as the radius. Our garden bed is 1.5m from the centre of the circle to the edge, and it is to be filled 100mm high with soil.
Formular = 3.1415 x (radius (m) x radius (m)) x depth (m)
Our garden bed = 3.1415 x (1.5m x 1.5m) x 0.1m = 0.706m3
In this instance we would order 0.75m3 of soil, it can be better to order slightly more as some products may compact or there could be inconsistencies such as our garden bed being lower in the middle than at the edge.
How big is a cubic metre (m3)?
A cubic metre is a measure of volume, it is 1m wide, 1m high and 1m deep.
A 240L Wheelie Bin is 0.24cubic m.
Can you check my measurements or work out how much I need?
Absolutely, please call or email us with your measurements and we can help you out.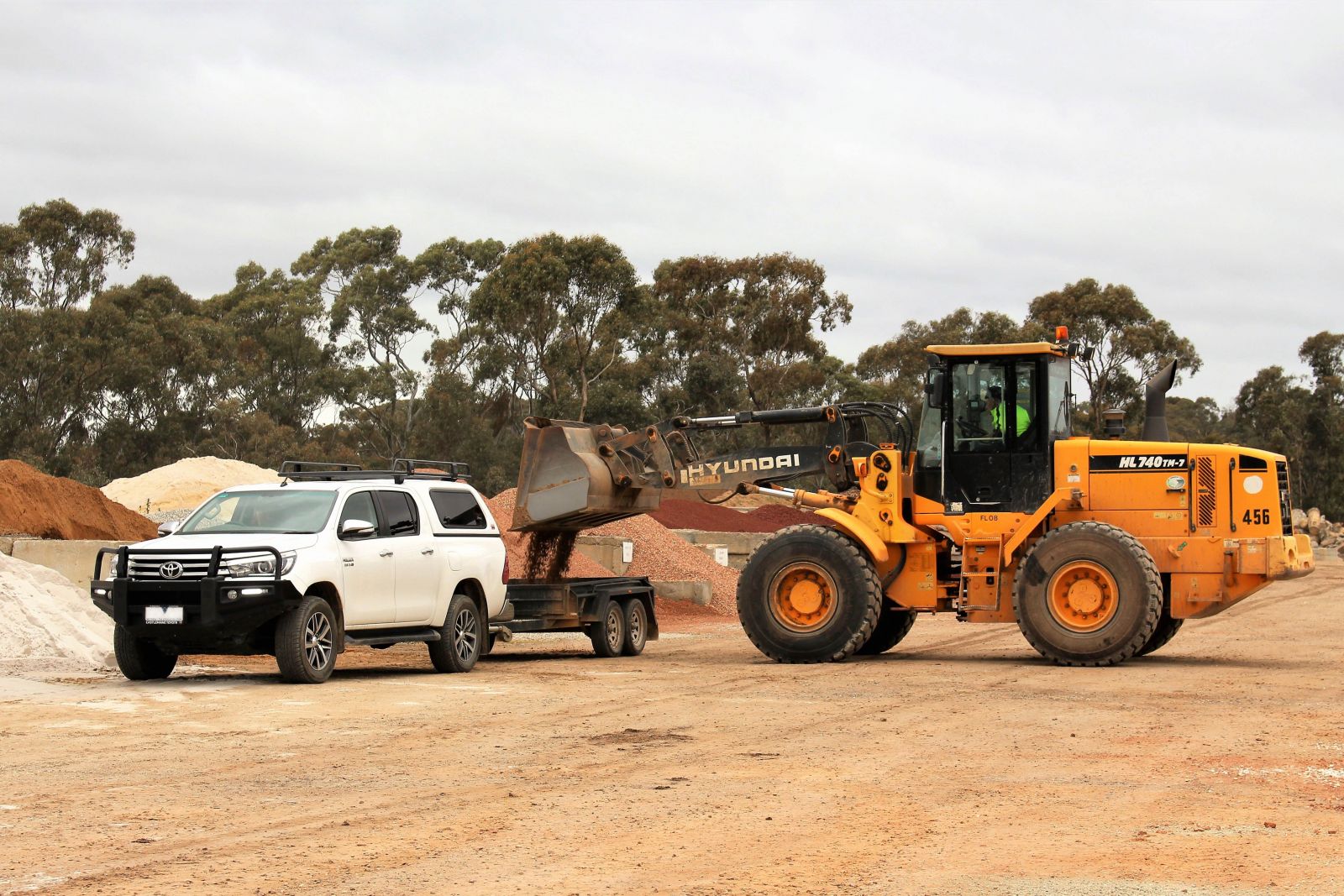 How much can I fit into my trailer/ute?
To calculate the volume of your trailer/ute, use the formula LENGTH (w) X WIDTH (W) X DEPTH (W)
A 6x4 (1.8m x 1.2m) box trailer with a 750kg Aggregate trailer mass can hold 0.7 cubic metres, or two scoops.
Always ensure your load is secure and appropriate for the size of your trailer and the towing capacity of your vehicle. Please ensure your trailer/ute has finished being loaded before leaving.
Loads that are not secured properly can cause serious accidents and injury. It is the vehicle owners responsibility to secure the load correctly; we recommend tarpaulins and ropes.
Load limits are dependent on the legal weight limit of the trailer and the towing capacity of your vehicle. We have a variety of trucks available to deliver, should you require larger amounts of product.
I don't have a trailer/ute?
No worries, we have 6x4 trailers available for complimentary hire from each of our sites. We can also deliver your landscaping materials.
How much does delivery cost?
Delivery costs depend on how much product you require and where it is being delivered to. For a quote please contact us. To find out about our free delivery click HERE.